Five Reasons Why SEO is Important for Your Business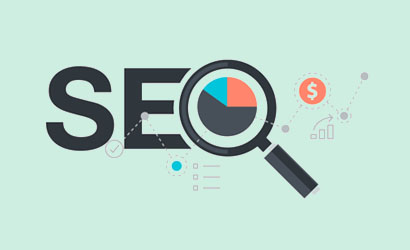 According to a recent study 97% of people search online to find a local business and 1 of 3 people conduct a search on their smartphone before visiting a store. 
Which means if you are a local business and want to drive more customers at your doorsteps, you have to build a strong online presence. 
For the query "insurance brokers near me" google displays me 19,30,00,000 results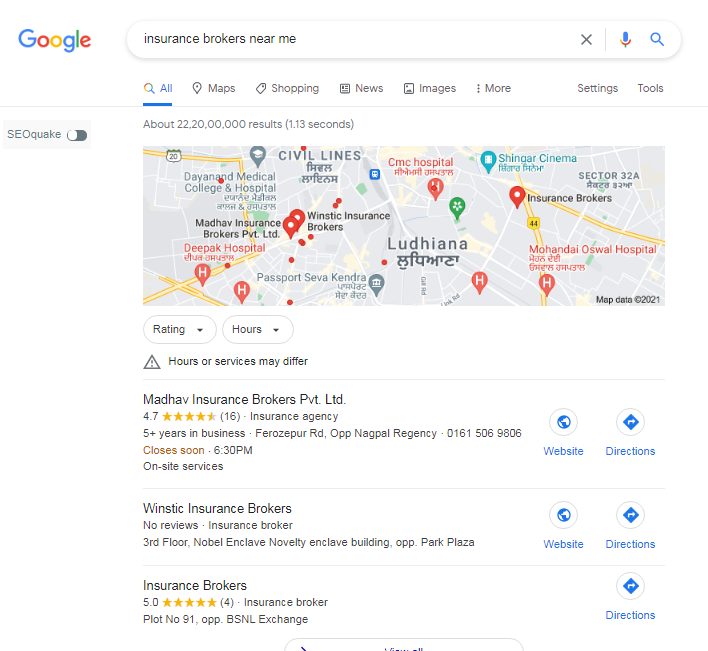 And do you know how many results google displays on the first page ? 
Ten Results 
That's it
According to Moz, the first page of Google captures 92% of search traffic clicks in recent years. 
So you can't afford to rank on the 2nd page of google or other search engines.
The real question is "How will you stand out ?"
Here comes the role of an SEO (search engine optimization) consultant to rank your business on the first page of google and drive more traffic on your website or google my business listing. 
In this blog I will give you 5 reasons why SEO is important for your business.
Stay tuned!
1. SEO Builds Trust and Credibility
A good SEO strategy helps your business' website not only rank higher in search results but also be useful in building brand, trust and credibility. The role of an SEO expert is to establish authority for search engines by techniques such as guest blogging, content curation etc. as well as to create a smooth user experience. When your website is well optimised (on page, off page and technically) for relevant keywords and its content provides value to users it automatically ranks higher. 
Here is a screenshot of my client Wrapcart which is an ecommerce store of mobile skins ranking on position 1st for keyword "Mobile Skins" ( the positions may vary depending upon various SEO factors but its has to be on first page and within top 5)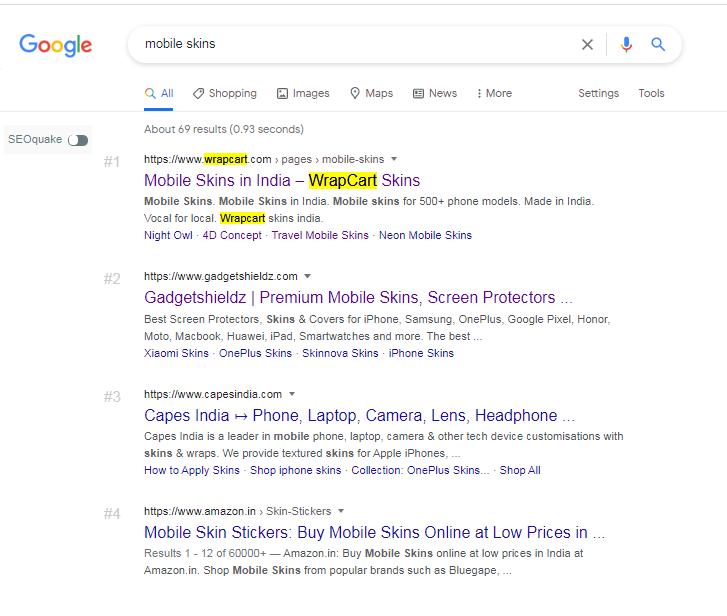 Keyword "mobile skins" is highly searchable and competitive as well.
Its organic traffic is 2000 visitors per day
Want similar results – Let talk.
2. Increases Organic visibility
SEO is the best way to increase organic presence for your business. If you are not familiar with the word organic, it means without using paid ads like that of facebook, instagram or google ads. Paid ads have a very short term effect on improving visibility of websites whereas SEO have a long term impact on driving traffic and visibility.
3. Increasing Traffic and Conversions
Like I mentioned above 97% people are searching online for businesses and if your website is ranking higher on the first page then users are likely to click on your website. 
More traffic = More conversions
4. SEO is relatively cheaper 
Of course SEO will cost you money, but it's much cheaper than running paid ads. Once your website is well established you do not have to run paid ads. So SEO will save you money in the long run.
5.  Helps in beating competition 
If you are looking to outrank your competitors and reach out to the maximum number of people organically then SEO is the best way. If your website is ranking on competitive keywords at the first page of a search engine, it will automatically drive more traffic. 
So if you are looking to increase traffic and revenue by SEO then let's get together. 
3605 Alberta Ave, Mechanicsburg,
PA 17050, United States

Village Bulara, PO Gill,
District Ludhiana, Pin - 141116